MICHAEL T. OBERLE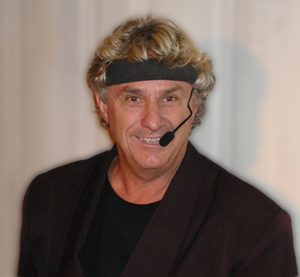 Michael has been a member of the Lulu's Band since 1985. His professional music career began as the singing drummer for the house band on CTV's nationally syndicated show "It's Happening".
This stage of his career came to a close with Michael returning to university and performing part-time with the Toronto based rock band "Magic Circus". He also made a transition into acting – doing several TV commercials – including contract's with Labatt's and Kellog's.
Next, Michael became a member of the recording act "Tranquility Base". The band performed frequently with the Hamilton Philharmonic Orchestra in addition to writing and performing Top 10 cover songs. After 2 years with "The Base" – Michael left to become the drummer for "The Ian Thomas Band" and the next 6 years were spent recording 6 albums and touring nationally and internationally- sharing the stage with bands such as The Beach Boys, Rush, Al Stewart, and April Wine.
In 1980 Michael formed a highly vocal rock band named "Glider" that quickly became one of Ontario's most popular Top 40 bands. In Feb 1985 Michael disbanded Glider to join Lulu's Roadhouse Band.
Michael has been the leader of the Lulu's Band for the past 20 years and is responsible for all bookings and business dealings for the group. If you or your organization would like to have the Lulu's Band perform at your event, please contact Michael for more information using the "Contact Us" link on the navigation bar.